If there's one thing we at Willow Lane Hat Co enjoy just as much as cowboy hats, it's all things wedding-related! From gown styles, dining options, bridesmaid gifts, we love seeing how you add your personal touch to your big day, whether that be country or not! Let us take a walk down Willow Lane and showcase 4 cute and unique ways to add some Western style to your big day!
1. Bride and Bridal Party in Cowboy Boots
There is nothing quite as cute as you and your closest girlfriends lined up and showing a little leg while sporting your favorite cowboy boots! Brands we love include Justin, Ariat, and Corral. There are many feminine designs, such as exotic white snakeskin boots, white leather boots encrusted with Swarovski crystals or a glitter inlay, or a classic tan leather boot with ornate white embroidery.
We suggest checking out either Boot Barn or Cavender's if you are planning on buying new boots specifically for your big day! Ask a store associate or email customer service for a group discount coupon. Have everyone head to a store closest to them to try on the brand (and if possible, style) to make sure they have the correct fit. Better safe than sorry!
2. First Dance to Your Favorite Country Music Icon
The easy part is walking down the aisle and kissing the man of your dreams after saying "I do." The hard part is picking the perfect Country song for your first dance. Don't worry though, Kate and I have got you covered and have a few of our favorites listed below!
Forever And For Always - Shania Twain
You're Still The One - Shania Twain
I Need You - Tim McGraw & Faith Hill
It's Your Love - Tim McGraw & Faith Hill
Amazed – Lonestar
To The Moon and Back - Luke Bryan
She's Everything - Brad Paisley
Little Moments - Brad Paisley
When You Say Nothing At All - Allison Krauss
I Cross My Heart - George Strait
Making Memories Of Us - Keith Urban
Bless The Broken Road - Rascal Flatts
Photo by Ramiz Dedaković on Unsplash
3. Rustic Table Décor 
Kate and I are all about DIY projects (you should see our home hehe), and what better way to save money on your wedding while adding a unique rustic touch than making some of the décor yourself! Even better, you can drink wine with friends to help create one of our favorite wedding guest table centerpieces!
Head over to Upcycle My Stuff's Blog to see how you can achieve the ultimate rustic wine cork centerpieces without breaking the bank.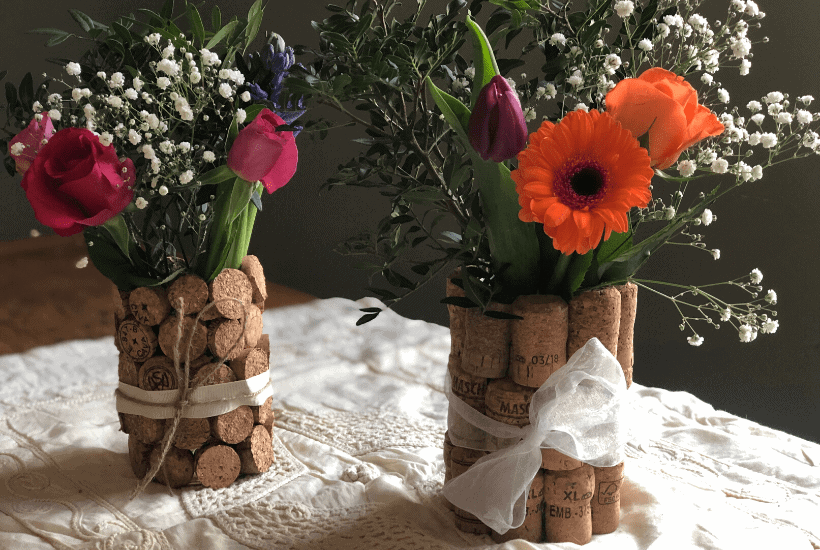 Photo Credit: Upcycle my Stuff
4. Adorn Your Cowboy Hat
You can't say "I do" without a little "Yee Haw!" What better way to add a little Southern touch than by sporting your favorite Willow Lane Hat Co Cowboy hat? If you would like to dress up the hat, you can add a fresh flower hat band that matches your bouquet or a delicate white hat band. If you already own one of these hats and want to clean it up for your big day, check out our blog post on keeping your hats looking new!
Willow Lane Hat Co offers a wide variety of neutral tone Cowboy hats perfect for any bride! Some of our favorites include:
Ivory Rancher Fedora Hat - The Mont Blanc in Suede
If your husband-to-be would like to sport one of our cowboy hats, we have him covered as well! Perfect cowboy hats for the big day are:
Stampede 100X Felt Cowboy Hat - The Clint available in Brown, Beige, Black
If you're not already, subscribe to our email newsletter to receive a coupon for 10% off your first order! Mosey on over to Willow Lane Hat Co and sign up today!
♡We sincerely hope you found this post to be helpful in planning your big day!♡
XOXO Willow Lane Hat Co (Amy & Kate)